Try to imagine being a child who couldn't access the internet in 2020. (Just digest that for a moment.) Then, imagine online school with no internet. The word "impossible" comes to mind. So many things we do rely heavily on internet access and having a device on which you complete basic and necessary daily activities. It has become such a critical resource that, without it, it's almost impossible to thrive – or even live – without it.
The Jefferson's Foundation recently had the honor of being a contributing partner in a project initiated by the Lawrence Douglas-County Public Housing Authority to bring just this type of service to our local area youth, ensuring those children have access to both the devices they need and the internet services to make it possible. That means, parents have critical access, too.
Flatland KC recently covered this in a story titled, "Free Gigabit Project Bridges Digital Divide in Lawrence Public Housing: Public-Private Partnership Brings Free Gigabit Service To 130 Households."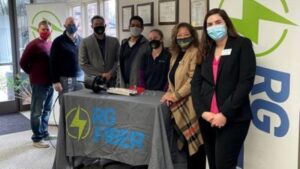 Image credit: Lawrence Mayor Brad Finkeldei, Patrick Kelly, executive director of Curriculum and Instruction for USD 497, Mike Bosch founder and CEO of RG Fiber, Shannon Oury, executive director of Lawrence Douglas County Housing Authority, and Heather McNeive, director of general housing with LDCHA, were among the attendees at the splice event on Feb. 5, 2021. The event marked the launch of free gigabit internet for the residents of Edgewood Homes. (Courtesy | Lawrence Douglas County Housing Authority)
We at the Jefferson's Foundation are honored to be part of a partnership now providing 143 Lawrence households and children with secure internet services who would otherwise be left without critical access to the technology needed by children in our communities. Additionally, our contribution provides more than 90 Lawrence children with personal devices to support year-round access to learning.
Access to both the internet and the necessary technology is an especially important resource for children as a great majority of them are in a virtual learning environment as a result of the COVID-19 pandemic.
Our mission: working in our communities to better the lives of children and youth in need, made a reality through a donation of $10,000 to the Lawrence-Douglas County Housing Authority and its involvement in this ConnectHome USA Program, a program designed to bridge the gap between those in public housing who may not be able to afford the cost of internet services.